Cosmetic Dentistry in Luzerne County, PA
Casey Dental offers premier cosmetic dental services in Luzerne County area. We specialize in teeth whitening, veneers, bonding, and aligners and offer financing options. 
If you are considering making a cosmetic update to your smile, contact us today to schedule a consultation. We look forward to helping you get your beautiful, healthy smile!
Cosmetic Treatments We Offer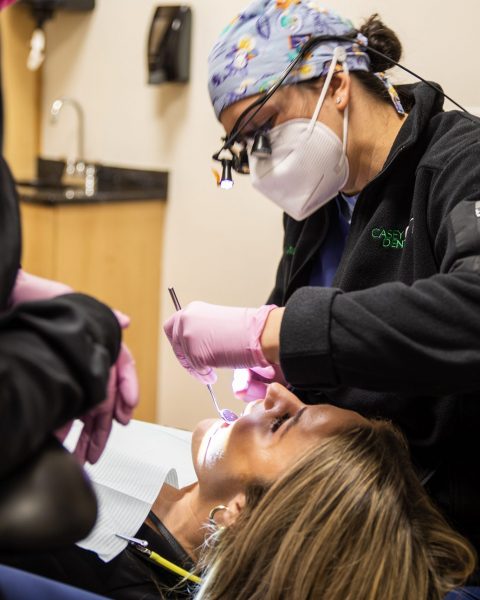 The dental veneer procedure is usually done for aesthetic reasons to improve the shape or color of your teeth. Porcelain veneers consist of thin shells of porcelain that we use to cover the front surface of your natural teeth. Porcelain veneers are an effective way to alter the appearance of your smile and can be used to correct several cosmetic dental issues, such as: 
Discoloration

Chips

Cracks

Misshapen teeth

Gaps between teeth
They are a popular cosmetic treatment because they provide a natural-looking way to improve the appearance of the teeth. They are also durable and long-lasting.
Ask about our complimentary digital smile evaluation!
Teeth whitening is a popular cosmetic service that can be used to brighten and whiten teeth that have been stained by coffee, tea, smoking, or other food and drinks. We offer both in-office and take-home whitening kits.
In-office whitening is a quick and effective way to achieve brighter teeth. The treatment is done in our office using a whitening gel and only takes about an hour.
Take-home teeth whitening kits are an easy way to achieve brighter teeth. The kit includes everything you need to whiten your teeth at home, including teeth whitening products, trays, and instructions. The kit is easy to use and can be used at your convenience.
Please visit our dental store for our at home whitening products!
Invisalign is an alternative solution to traditional braces. Invisalign uses clear, removable aligners to straighten your teeth. The aligners are near invisible and can be taken out when eating and brushing. Invisalign is a popular cosmetic treatment because it is an effective way to straighten teeth without the use of metal braces.
Yes, the American Dental Association (ADA) recommends that you get them whitened by a professional if you have tooth sensitivity. Whitening your teeth with over-the-counter products can make sensitive teeth even more sensitive. The ADA also recommends that you implement good oral hygiene practices and use toothpaste designed for sensitive teeth.
Yes, professional whitening treatments are more effective than strips. A whitening gel is applied directly to the teeth and works to remove stains and discoloration. The whitening agent in strips is not as effective because they only come in contact with the front surface of the teeth.
No, dental bonding and dental veneers treat different issues. Dental bonding is used to alter the shape of teeth, fill in gaps between teeth, and change the color of teeth. Dental veneers can be used to cover the front surface of the teeth and are an effective way to improve the appearance of the teeth.
Contact Us for Cosmetic Treatment
If you are interested in learning more about our cosmetic dental services, contact us today to schedule a consultation.