Dentist in West Pittston, PA
Are you looking for the best dentist that serves patients near West Pittston, PA? Look no further than Casey Dental! We offer many dental services to meet the needs of each of our patients. From teeth cleanings to root canals, we have you covered!
We take pride in our experienced and professional dentists dedicated to providing quality care and ensuring that our patients have a positive experience at our practice.
Family Dentistry in West Pittston, PA
Casey Dental offers comprehensive dental care for all our patients, making it an ideal choice for families. Our office provides everything from routine cleanings and exams to more complex procedures such as fillings, crowns, and teeth whitening.
The staff at Casey Dental is experienced in working with adolescents, providing them with the care they need to feel comfortable during their appointment. Casey Dental is the perfect choice for families looking for quality dental care with convenient hours and a convenient location.
Adolescent Dentistry in West Pittston, PA
A child's first visit to the dentist is an essential milestone in their overall health and development. We know this can be a daunting experience for both parent and child. Our team is specially trained in adolescent dentistry, focusing on providing gentle, compassionate care.
We also work closely with parents to educate them on proper oral care at home. We aim to ensure every teen has a positive dental experience.
Why Choose Casey Dental for Adolescent Dentistry Needs?
Casey Dental has been serving the dental needs of adolescents in the area for over 20 years.

We are a proud leading provider of adolescent dentistry services.

Our team of dental professionals is committed to providing the highest quality care for our patients.

Our experienced and well-trained team of dental professionals provides a full range of dental services for adolescents.

We tailor our care to meet the unique needs of every teen.
Special Needs Dentist in West Pittston, PA
Special needs dentistry is a growing field dedicated to providing dental care for patients with intellectual and developmental disabilities. Our Mary Casey Special Needs Dental Clinic proudly offers special needs dentistry services for our patients. We provide various services, including preventive care, routine cleanings, and dental treatment. Our office staff is specially trained to care for patients with special needs.
If you or a family member has special needs, we encourage you to contact us to learn more about our special needs dentistry services.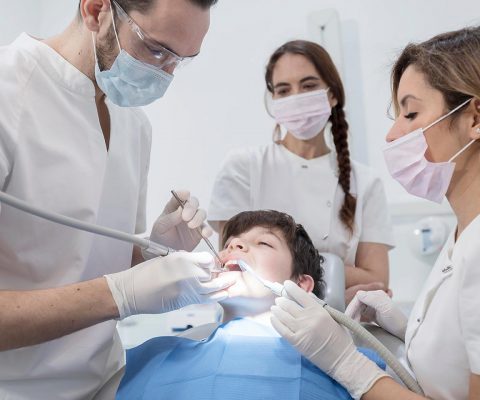 Orthodontics in West Pittston, PA
Orthodontics addresses the diagnosis and correction of misaligned teeth. At Casey Dental, we understand that straight teeth are essential for oral health and self-confidence; we are committed to helping you achieve your goals.
We offer the following orthodontic treatment for our patients in West Pittston:
Traditional braces

Invisalign clear aligners
Benefits of Orthodontic Treatment
Improved oral health

Boost self-confidence

Reduction in the risk of injury

Help to prevent future problems from developing, such as TMJ disorder or tooth wear.
Sedation Dentist in West Pittston, PA
We know that some patients may feel anxious about visiting the dentist. That's why Casey Dental offers sedation dentistry for our patients who need a little extra help relaxing during their dental procedure. With sedation dentistry, you can rest assured that you will remain comfortable throughout your entire procedure. Whether you're having a simple cleaning or a more complex procedure, our team will work with you to ensure you're as relaxed as possible.
Our Sedation Options:
IV sedation

Nitrous Oxide (Laughing Gas)

Oral Sedation
Please contact our office today to learn more about sedation dentistry. We would happily answer any of your questions and help you book an appointment.
Cosmetic Dentistry in West Pittston, PA
A smile is one of the first things people notice about you, so it's essential to ensure your teeth look their best. If you're not satisfied with how your teeth look, cosmetic dentistry can help. Casey Dental offers a wide range of cosmetic dentistry services to help enhance your teeth so you can achieve the smile you've always wanted. Services include teeth whitening, bonding, veneers, and more.
If you're considering cosmetic dentistry, request an appointment to learn more about what we can do for you.
Emergency Dentistry in West Pittston, PA
Casey Dental offers emergency dental services to ensure that our patients can get the care they need when they need it. Whether you're experiencing a toothache, broken tooth, or other dental problem, our experienced team will be able to provide you with the treatment you need to get relief.
We know that dental emergencies can be painful and stressful, so we'll do everything we can to help you get out of pain and on the road to recovery as quickly as possible. If you're near West Pittston, PA, and need emergency dental care, don't hesitate to call us. We'll gladly help you get the care you need.
Why Choose Casey Dental As Your Professional Dental Care Provider?
At Casey Dental, we are committed to providing our patients with the highest quality of care, and we offer a wide range of services to meet your specific needs. Our team of experienced professionals offers comprehensive dental care, including preventive, restorative, and cosmetic services. We also use the latest technologies and techniques to ensure you receive the best care.