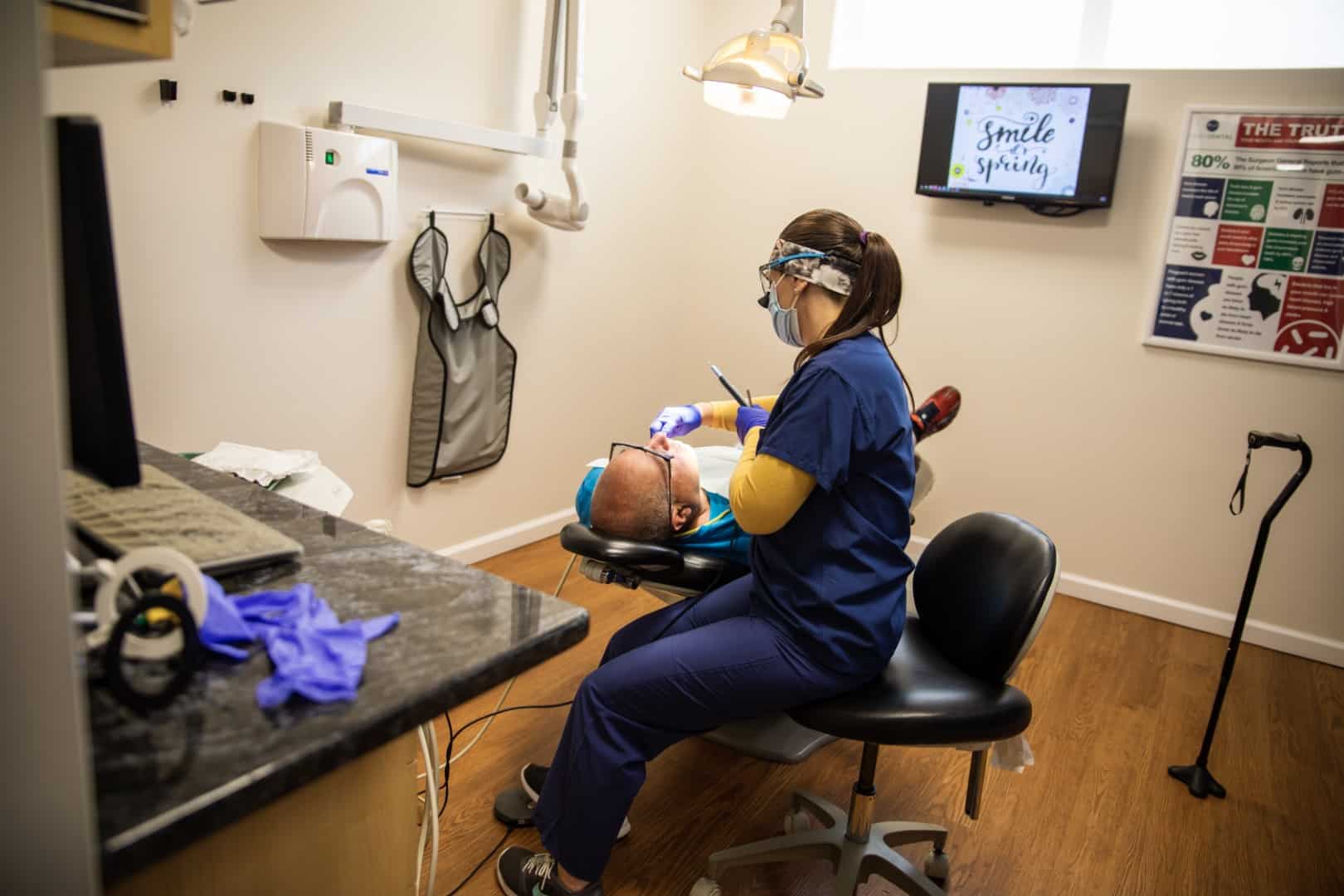 Dental bonding may be the perfect solution for you if your teeth are stained, chipped, gapped, or misaligned. Cosmetic bonding is a less permanent and costly alternative to veneers that can help reshape a tooth and cover imperfections.
This simple procedure can correct various dental flaws and leave you with a beautiful, confident smile.
Improve Your Smile with Cosmetic Dental Bonding
Using a tooth-colored composite resin, our skilled dentists can improve your smile and restore confidence. The bonding material is a durable yet pliable material that can match the color of your natural teeth, providing a seamless and natural look that will last for many years with the proper care.
Cosmetic dental bonding is most commonly used to:
Close gaps between teeth

Provide the desired shape of the tooth

Increase the length of teeth

Cover chipped or cracked teeth

Cover large fillings to prevent further tooth decay

Protect a tooth root (exposed by gums receding)
Additional teeth whitening can be done in conjunction with teeth bonding to help with discolored teeth or restorative dentistry procedures like dental implants to give you an even more beautiful smile.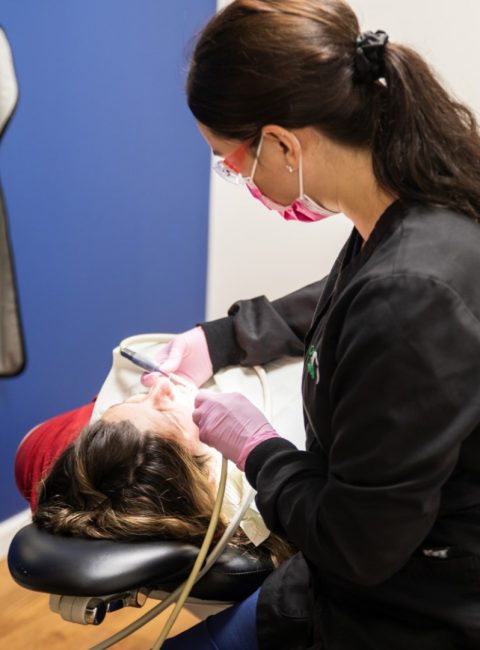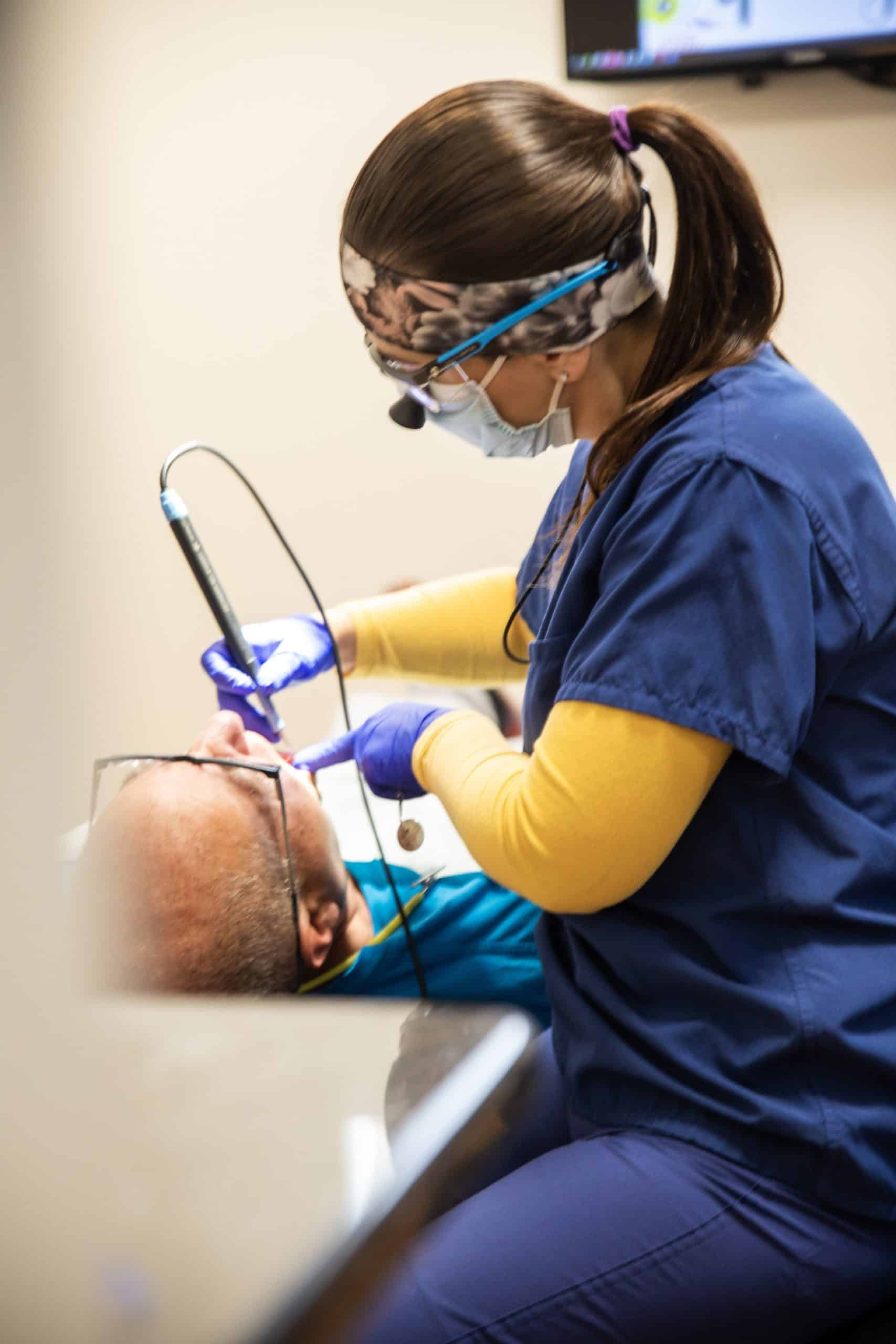 The Composite Bonding Procedure
Our dentists will thoroughly examine your mouth and explain your treatment options during your initial consultation. Then, the procedure can be completed in just one visit to our office.
The dental bonding process is simple and minimally invasive. After numbing your teeth and gums using a local anesthetic, the tooth-colored composite resin will be applied directly to your teeth. Once the resin is in place, our dentists will use a special light to harden and bond it to your teeth.
After the resin has been placed and hardened, our dentists will make any final adjustments. This is done by trimming and shaping the resin to achieve the perfect look and ensure that your bite is comfortable and that your new smile looks natural.
The entire teeth bonding procedure usually takes less than an hour to complete. You can leave our office with a brand-new smile that you can't wait to show off!
Caring for Your New Smile
Once your teeth have been bonded, taking good care of your new smile is essential. One of the benefits of dental bonding is that it is a durable procedure; however, the bonded tooth is not as strong as your natural enamel.
To help the bonding materials last for many years, we recommend patients follow these excellent oral hygiene practices:
Avoid chewing on hard objects like ice or candy.

Limit intake of beverages that can stain, such as coffee and tea.

Quit smoking—the bonding materials do not resist stains.

Brush and floss regularly for healthy teeth.

Visit the dentist regularly for checkups and cleanings.
It is not uncommon for the bonding material to become stained or chipped over time. If this happens or the tooth feels odd, simply schedule a consultation with one of our dentists, and we will be happy to make any necessary touch-ups.
Teeth Bonding in Scranton Wilkes-Barre, PA
If you are considering dental bonding to improve your smile and are located in the Wilkes Barre area, we encourage you to contact our office today to schedule an appointment. Our skilled and experienced dentists will work with you to develop a treatment plan that meets your unique needs and goals. We look forward to helping you achieve the beautiful, confident smile you deserve!